Verschoben
Bisheriges Datum:
UK Subs
Frankenstraße 200
90461
Nürnberg
Event organiser:
GkF - Gesellschaft für kulturelle Freiräume mbH, Frankenstraße 200, 90461 Nürnberg, Deutschland
Information on concessions
Einlass ab 16 Jahren nur mit gültigem Ausweisdokument.
Ein entsprechender Nachweis ist am Einlass unaufgefordert vorzuzeigen.

Begleitpersonen von Besucher_innen mit Vermerk B im Behindertenausweis haben kostenlosen Eintritt im Z-Bau. Es reicht also, wenn ihr gemeinsam ein Ticket kauft. (Zeigt am Einlass bitte den Nachweis vor.)
Falls ihr mit einer Begleitperson oder im Rollstuhl kommt, meldet euch bitte unbedingt vorher bei uns. So können wir euch einen besseren Platz sichern.
Schreibt uns entweder eine E-Mail an barrierefrei@z-bau.com oder ruft an unter 0911 4334 920.
Event info
With 2017 marking the U.K. Subs' 40th anniversary; this legendary punk band continues to represent the true spirit of punk rock. Inspired by the Damned at the birth of British Punk, the now equally legendary Charlie Harper formed the Subs out of his then R&B outfit The Marauders, circa summer 1977.
Starting out as The Subversives, the name was shortened to The Subs and then changed to U.K. Subs, whilst early line-ups merged their high-speed R&B sound into punk.
October 1977 saw Charlie joined by Nicky Garratt on guitar, and it was the Harper/Garratt song writing partnership that would go on to collaborate on the band´s most successful record releases. Through 1977 and 1978 the band played shows all over London including the infamous Roxy punk club, building up a fiercely loyal and sizeable following. Their first 'recorded' output was on the 'Farewell To The Roxy' LP.
This bought them to the attention of John Peel who was obviously impressed enough to offer to finance their first single. However, City Records ended up releasing their first brilliant single, C.I.D, in September 1978. It became a huge indie number 1 hit. In 1979, they signed to Gem Records and surprised everyone by becoming one of the most consistently and visibly successful punk bands, with seven consecutive UK Top 30 hits between 1979-81 - Stranglehold, Tomorrows Girls, She´s Not There, Warhead, Teenage, Party In Paris and Keep On Running. They also scored two UK top ten albums - Brand New Age and Crash Course - establishing themselves throughout the world with a heavy touring schedule that still continues to this day.
Led by the indefatigable 72 years young Charlie Harper - now venerated as the godfather of UK punk - the band has continued to improve through various line-ups and record companies.
Still touring worldwide, they maintain that true spirit of punk rock continuing to inspire each subsequent generation of fans. There has never been any division of fan and band with the Subs, and Charlie's unrelenting love of his audience and music shines through. This is something that galvanized listeners of Steve Lamacq's BBC 6music show to vote them as the most respected of Punk 'icons', to win the 2010 Punk World Cup.

2016 saw the eagerly anticipated final album 'Ziezo' released - via a fabulously successful PledgeMusic campaign - to a crescendo of critical acclaim, as they completed their quest to be the first band to release their official albums alphabetically A to Z!. The worldwide touring regime has continued apace - including the USA, Europe and Japan as the band continue to entertain and amaze with their powerful live shows.
With a fabulous line up in place of Charlie, Steve Straughan on guitar, Alvin Gibbs on bass and Jamie Oliver on drums, the U.K. Subs continue to entertain, enlighten and enthuse with blistering recordings as well as their ever-popular enthralling live shows.
Like a vintage wine – the U.K. Subs just get better and better.

U.K.SUBS MAIN LINE UP:
Charlie Harper – vocals
Steve Straughan – guitar
Alvin Gibbs – bass
Jamie Oliver – drums
Location
Z-Bau
Frankenstr. 200
90461 Nürnberg
Germany
Plan route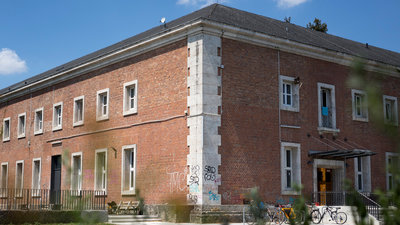 Das Kulturzentrum Z Bau in Nürnberg ist eine künstlerische Spielwiese, die kulturellen Freiraum für die unterschiedlichsten Projekte schafft und jeden herzlich willkommen heißt. In den großzügigen Räumen des Hauses findet von Partys und Konzerten über Ausstellungen bis hin zu Literaturveranstaltungen und anderen Kunstprojekten so ziemlich alles statt.

Auf bis zu 5.500m² bespielbarer Fläche leben sich die Künstler, ganz gleich ob bekannt oder Nachwuchs, ob regional oder international, aus und widmen sich gemeinsam den Bereichen Musik, Theater und Literatur. Insgesamt stehen vier Veranstaltungsräume, darunter der Rote Salon, sowie Ateliers, Studios und weitere Projekträume zur Verfügung, in denen Kreativität keine Grenzen gesetzt wird. So wurde auch der Kunstverein Hintere Cramergasse e.V. feste Instanz im Z Bau, der hier seit 2000 ehrenamtlich arbeitet und für alle Weltoffenen seine Tore geöffnet hat. Nur wenige Gehminuten von der Haltestelle "Frankenstraße" entfernt, befindet sich der Z-Bau in attraktiver Lage, für Besucher und Veranstalter!

Das Kulturgelände im Nürnberger Stadtteil Hasenbuck ist barrierefrei und verfügt außerdem über einen großzügigen Außenbereich, der Künstler und Besucher bei Sonne ins Freie lockt und das Angebot im Z Bau mit einem Biergarten perfekt abrundet.

Sollten die Parkplätze im Z-Bau alle belegt sein, kann u.a. auf das Parkhaus FrankenCampus ausgewichen werden.
Gäste des Z-Bau können dort auch nach 21:00 Uhr parken (entgegen der Beschilderung im Parkhaus)
Hygienekonzept
Bitte Beachten !
Während der Veranstaltung gelten die allgemeinen Hygieneregelungen. Alle weiteren Infos entnehmen Sie unserer Homepage.
Weitere Infos