»Little Shop of Horrors« - Eclectic Theatre Dresden
Königsbrücker Platz
01097
Dresden
Tickets from €17.50 *
Concessions available
Event organiser:
TheaterRuine St.Pauli e.V., Königsbrücker Platz, 01097 Dresden, Deutschland
Information on concessions
Ermäßigung gilt für:
Schüler, Studenten, Inhaber Dresden Pass, Behinderte, ALGII Empfänger
Ermäßigungsnachweise müssen beim Einlass unaufgefordert vorgezeigt werden.
Gruppenrabatte Anfragen über Theaterbüro Tel 0351-2721444 oder kontakt@pauliruine.de
Event info
Eclectic Theatre e.V. spielt in englischer Sprache
Eclectic Theatre proudly presents its first ever stage musical. With memorable tunes, mesmerising puppetry, a six piece band and an all singing all dancing cast, this is an event not to be missed.
A talented young botanist discovers a mysterious breed of plant which seems to promise fame and fortune. It all comes at a price, however. Sometimes turning over a new leaf isn't as simple as it seems.
Book and Lyrics by Howard Ashman
Music by Alan Menken
Based on the film by Roger Corman
Screenplay by Charles Griffith
Originally produced by the WPA Theatre (Kyle Renick, Producing Director)
Originally produced at the Orpheum Theatre, New York City by the WPA Theatre, David Geffen, Cameron Mackintosh and the Shubert Organization
Location
Theaterruine St. Pauli
Königsbrücker Platz 1
01097 Dresden
Germany
Plan route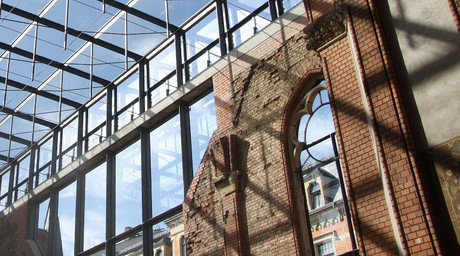 Die Theaterruine St. Pauli ist wohl einer der außergewöhnlichsten Orte, an denen man in und um Dresden Theaterinszenierungen erleben kann. Die Ruine der ehemaligen evangelischen St. Pauli Kirche wurde nach der Zerstörung nicht mehr aufgebaut und gibt heute Raum für Kultur und Begegnungen.

Als dreischiffige Hallenkirche entstand St. Pauli 1891 und wurde im Bombenhagel des Zweiten Weltkriegs schwer in Mitleidenschaft gezogen. Als Trümmerfeld fristete sie schließlich ihr Dasein, bis sie 1997 als Begegnungsort entdeckt wurde. Schon von Beginn an stieß das Projekt auf rege Begeisterung, 2003 strömten bis zu 250 Zuschauer pro Abend in die Theaterruine, um die Inszenierung des Sommernachtstraums zu erleben. Seit 2012 können die Veranstaltungen hier auch bei Wind und Regen stattfinden, denn seitdem wird St. Pauli von einem Glasdach geschützt.

Mit einem facettenreichen Programm zieht die Theaterruine St. Pauli in Dresden alle Besucher in ihren Bann. Das Repertoire reicht dabei von Gegenwartsdramatik über Commedia dell'arte bis hin zu Musiktheater. Auch Workshops, Kurse und anderweitige Kulturveranstaltungen finden hier statt.