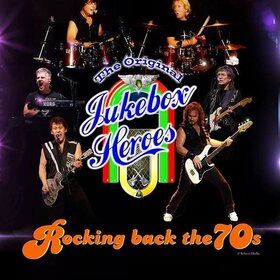 The Original
Auch 2023 sind die Juke Box Heroes wieder auf Tour durch verschiedene deutsche Städte. Die Meister des Glam Rock beweisen, dass sie noch lange nicht zum alten Eisen gehören und geben noch einmal alles.

Glam Rock lebt! Mit den Juke Box Heroes kommt jahrzehntelange Glam-Rock-Tradition zurück auf die Bühne. Die vom ehemaligen The Sweet Musiker Jeff Brown gegründete Supergroup vereint verschiedene Legenden der goldenen Ära des Genres. Gemeinsam bringen sie die 70er auf die Bühne und schaffen ein authentisches Erlebnis wie keine andere Band.

Im Jahr 2005 rief Jeff Brown die Band ins Leben, um den Glam Rock gemeinsam mit anderen Superstars erneut zu zelebrieren. Mit ins Boot holte er sich Ex Les McKeown's Bay City Rollers Phil Hendriks, Ex Slade Steve Whalley und Glitterbands Pete Phipps. Dazu kommen Philip Wright von Paper Lace und Dave Major von T-Rex. Gemeinsam machen sie Musik, wie es sie seit den 70er-Jahren nicht mehr gegeben hat. Diverse Klassiker werden von würdigen Musikern der Szene neu zum Besten gegeben.

The Original Juke Box Heroes schaffen ein Glam-Rock-Erlebnis, wie man es nirgendwo sonst findet. Für alle nostalgischen Fans der Ära und neue Glam Rocker ist die Tour der Heroes ein absolutes Muss. Sichern Sie sich jetzt Tickets und hören Sie die Legenden live.
Source: Reservix