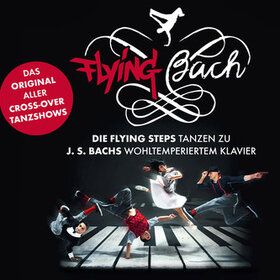 FLYING BACH - 10 Jahre Jubiläum
Die Breakdance-Crew Flying Steps kehrt 2023 mit der fantastischen Show "Flying Bach" zurück nach Europa und macht dabei unter anderem auch in Deutschland Halt. Diese Show ist spektakulär und entführt in eine grandiose Welt, in der Hip-Hop und die Musik von Bach eine einmalige Symbiose eingehen. Das solltest du nicht verpassen – schnell Tickets sichern und die Flying Steps live erleben!

Abgefahrene Dancemoves und spektakuläre Tanzformen kreieren die Flying Steps bei ihren Auftritten. Gepaart mit spektakulären Licht- und Soundeffekten entsteht eine Show, die den Besucherinnen und Besuchern den Atem raubt. 

Die Crew der Flying Steps wurde 1993 in Berlin gegründet und gewann bereits ein Jahr später das renommierte "Battle of the Year", bei welchem Breakdance-Gruppen aus allen Ecken der Welt teilnehmen. Innerhalb kürzester Zeit etabliert sich die Gruppe an der Weltspitze des Breakdance. 2007 wird die Flying Steps Academy in Berlin gegründet, um Nachwuchstalente zu fördern. Heute ist die Academy Deutschlands größte urbane Tanzschule. Es folgen mehrere eigene Tanzproduktionen, die weltweit für Aufsehen sorgen und die Flying Steps spätestens ab diesem Zeitpunkt zu einer der größten Breakdance-Crews weltweit werden lassen.

Diese Truppe an Tänzerinnen und Tänzern solltest du auf jeden Fall live erlebt haben! Sicher dir jetzt deine Tickets und komm in den Genuss, Stunts der besten Breakdancerinnen und Breakdancer weltweit zu sehen.
Source: Reservix